Valentine's Day Recipe Ideas
TO PRINT CARDS...


Click on the
BLUE BOLD TITLES
below to
print a recipe card
for each recipe.

ENJOY!
Toast frozen waffles and let the children use cookie cutters to cut them into heart shapes.
Then let the children decorate their waffle hearts by sprinkling on powdered sugar.

Make heart-shaped red jello jigglers. Turn them upside down. Cut a

kiwi slice
in half for wings. Add rope licorice for antennae and candy hearts for eyes.

Ingredients
1 graham cracker pie crust
1 8-ounce package cream cheese, softened
1 carton strawberry yogurt
1 10 ounce carton frozen, sliced strawberries, thawed

Procedure
1. Blend cream cheese and yogurt till smooth.
2. Stir in strawberries and their syrup.
3. Pour into pie shell and place in freezer until set.

Buy a box of plain unfrosted pop-tarts, then let the children ice the pop-tarts with vanilla icing.
Then take a large conversation heart and place it in the top corner for a stamp.
Let the children use cooking sticks or tubes of fine icing to write messages!!

Let the children help make these tiny tarts for a fun valentine snack. In a mixing bowl blend together
1 cup of flour, 1/2 tsp. salt, 4 T. margarine, and 2 T. water. Form the dough into 16 to 18 balls.
Make a deep thumbprint in each ball to form a tart shell. Place the shells on a cookie sheet and
bake at 350 degrees for 20 to 25 minutes. When cool, fill the tart shells with strawberry jam or jelly.

Extension: Sing the song below while making your Queen of Hearts Tarts.

(Sung to the tune of: "Three Blind Mice")

Queen of Hearts, Queen of Hearts,
Makes good tarts, makes good tarts,
She rolls and cuts and fills each pie
With jams and jellies, and that is why
We gobble them up and then we cry,
"More, more tarts!"

Ingredients:
Refrigerated biscuits,
Pizza sauce,
Mozzarella cheese,
Pepperonis,
Heart cookie cutter

Procedure:
Flatten out biscuits, cut out a heart, then make as a pizza!!

Ingredients Needed:
1/2 pound soft caramels
2 tablespoons heavy cream
1 cup pecan halves
4 squares semi-sweet chocolate, melted and cooled

Procedure:
Heat caramels with cream in saucepan over very low heat, stirring constantly.
Cool 10 minutes. Set pecans on lightly buttered baking sheets in clusters of 3.
Spoon caramel mixture over nuts, leaving outer ends of nuts showing. Let stand to set,
about 30 minutes. Spread melted chocolate over caramel mixture. Makes 2 dozen.

Ingredients Needed:
1 stick butter, softened; cut into pieces
1/4 cup semi-sweet chocolate chips, melted

Procedure:
Stir butter and chocolate together by hand. Transfer to covered container, refrigerate or
freeze until ready to use. Serve with biscuits, pound cake, croissants, muffins or waffles.

Ingredients Needed:
1 pkg. ( 8oz.) cream cheese, softened
1 jar (7 oz.) marshmallow creme
1/2 to 1 teaspoon ground cinnamon
2 quarts fresh whole strawberries, hulled
Pastry bag or heavy duty plastic bag
#18 open star pastry tip
Crushed ice and fresh mint, if desired.

Procedure:
In mixing bowl, beat cream cheese, marshmallow cream and cinnamon until smooth.
Cut a small hole in the corner of pastry or plastic bag; insert star tip. Spoon filling into bag;
refrigerate for 1 hour. Quarter strawberries from the tip to the stems without cutting
completely through. Pipe filling into strawberries. Refrigerate until serving.
If desired, serve on a bed of crushed ice and garnish with fresh mint.

Ingredients:
1 20 oz. Roll refrigerated sugar cookie dough, chilled
1 16 oz. Can pink frosting
Powdered sugar
Heart shaped cookie cutters - 1 small and 1 large

Procedure:
Prepare sugar cookies according to directions on the package for rolled cookies.
Cut hearts in dough using a cookie cutter. Use knife or smaller cookie cutter to
cut out a heart in the center of half the cookies. Place cookies on ungreased
cookie sheet. Bake at 350 degrees for 7 - 9 minutes. You can bake the baby
hearts, too, for 5 minutes only. Let cool. Spread each big solid cookie
with frosting and top with a cutout cookie. Sprinkle with powdered sugar.

Have the children use a valentine cookie cutter to cut heart shapes out of a luncheon meat and
cheese slices. Show the children how to place the cheese hearts into the heart shaped holes in the luncheon
meat and vice versa. Let the children place the cheese and luncheon meat on bread to make sandwiches.

Variation: Let the children cut heart shapes out of slices of white bread. Have them spread on mixture
of deviled ham and mayonnaise. Then let them sprinkle alfalfa sprouts on their pink hearts for a lacey touch.

Thaw 1/2 cup frozen strawberries and whirl them with juice in a blender. Stir 4 envelopes unflavored
gelatin into 2 cups cold water and heat slowly until the gelatin is dissolved. Stir together the
strawberries and the gelatin mixture and add one 6 ounce can unsweetened frozen apple juice
concentrate. Coat a 9 by 12 inch pan with non stick cooking spray. Pour the strawberry
gelatin mixture into the pan and chill until firm. To unmold, turn the pan upside down on
a countertop. Then cut hearts out of the gelatin with a small heart shaped cookie cutter.

Ingredients:
1 cup shortening
1 cup sugar
1/2 teaspoon salt
1 egg
1 cup molasses
2 tablespoons vinegar
5 cups sifted flour
1 1/2 teaspoons baking soda
1 teaspoon each of ground ginger, cinnamon, and cloves
1 package red hots candies
1 jar silver ball candy decorations

Procedure:
Thoroughly cream shortening, sugar, and salt. Add egg, molasses, and vinegar. Mix well. Sift
together dry ingredients. Add to molasses mixture, mix well. Chill about 3 hours. Roll out,
¹ inch thick, on lightly floured surface. Trace children's hands onto paper and cut out with
scissors. Place paper hands on dough and cut around with a knife. Place on greased
cookie sheet and let children decorate their own hands. Use red hots for fingernails, silver balls
for rings, etc. Bake at 375 degrees for 6 - 8 minutes, cool on wire rack. Makes about 15 hands.

Ingredients:
1 pound confectioners sugar
3 tablespoons butter or margarine, softened
2 to 3 teaspoons peppermint extract
1/2 teaspoon vanilla extract
1/4 cup evaporated milk
2 cups (12 ounces) semisweet chocolate chips
2 tablespoons shortening

Procedure:
In a bowl, combine first four ingredients. Add milk and mix well. Roll into 1-in balls and place
on a waxed paper-lined cookie sheet. Chill for 20 minutes. Flatten with a glass to 1/4 in.;
chill for 30 minutes. In a double boiler or microwave-safe bowl, melt chocolate chips
and shortening. Dip patties; place on waxed paper to harden. Yield: about 5 dozen

Ingredients:
6 cups of Rice Krispy Cereal
1 Package Of Marshmallows
3 Tablespoons Margarine
Vegetable Cooking Spray

Utensils:
Microwave Oven
Large Microwave Safe Bowl
Funnel Sprayed With Cooking Spray
12" Square Of Aluminum Foil For Each Child
1" x 11" Strip Of Paper Per Child
Waxed Paper
Mixing Spoon

Procedure:
Label each strip of paper to say "A Kiss For You!" Follow directions on cereal box for
making rice krispy treats. Allow the mixture to cool until easy enough to handle. Have
children mold it in the funnel. Place on waxed paper to cool completely before wrapping.
Wrap kiss and strip in aluminum foil. Give as a gift to a special someone.

Ingredients:
3-1/3 cups sugar
1 cup butter or margarine
1 cup packed dark brown sugar
1 can (12 ounces) evaporated milk
32 large marshmallows, halved
2 cups (12 ounces) semisweet chocolate chips
2 milk chocolate candy bars (7 ounces each), broken
2 squares (1 ounce each) semisweet baking chocolate, chopped
1 teaspoon vanilla extract
2 cups chopped pecans

Procedure:
In a large saucepan, combine first four ingredients. Cook and stir over medium heat until sugar is dissolved.
Bring to a rapid boil; boil for 5 minutes, stirring constantly. Remove from the heat; stir in marshmallows
until melted. Stir in chocolate chips until melted. Add chocolate bars and baking chocolate; stir until melted.
Fold in vanilla and pecans; mix well. Pour into a greased 15-in x 10-in. x 1-in. baking pan. chill until firm.
Cut into squares. Yield: 5 1/2 pounds.

Ingredients:
2-1/4 cups packed brown sugar
1 cup butter or margarine
1 cup light corn syrup
1/8 teaspoon salt
1 can (14 ounces) sweetened condensed milk
1 teaspoon vanilla extract
1-1/2 pounds whole pecans
1 cup (6 ounces) semisweet chocolate chips
1 cup (6 ounces) milk chocolate chips
2 tablespoons shortening

Procedure:
In a large saucepan, combine the first four ingredients. Cook over medium heat until all sugar is dissolved.
Gradually add milk and mix well. Continue cooking until candy thermometer reads 248°F (firm-ball stage).
Remove from the heat; stir in vanilla until blended. fold in the pecans. Drop by tablespoonfuls onto a
waxed paper-lined cookie sheet. Chill until firm. Melt chocolate chips and shortening in a
microwave-safe bowl or double boiler. Drizzle over each cluster. Cool. Yield: about 4 dozen.

Ingredients:
36 large marshmallows
1-1/2 cups semisweet chocolate chips
1/2 cup chunky peanut butter
2 tablespoons butter or margarine

Procedure:
Line a 9-in. square pan with foil; butter the foil. Arrange marshmallows in pan. In a double
boiler or microwave-safe bowl, melt chocolate chips, peanut butter and butter.
Pour over the marshmallows. chill completely. cut between marshmallows. Yield: 3 dozen.

Let the children assist you in making up a packet of vanilla and chocolate pudding.
Show the children the two colors separately, then let them taste the puddings. Talk
about the different tastes and how they both taste good. Then let the children
mix the puddings, and see how they taste then. Let the children know
that even though they are different they are together a delicious pudding!

Ingredients:
3 C powdered sugar
2 C Graham crackers (Crushed)
1 C Peanut Butter
1 C Melted Butter

Procedure:
Mix Above together and press into 9 x 13. Melt 6 ounces Choc. Chips
and 1/2 Cup Peanut Butter in Microwave. Spread over Graham mixture & chill.

Ingredients Needed:
1 7 ounce package caramels
1/4 cup evaporated milk
3/4 cup chopped pecans, divided
1 9 inch chocolate crumb pie crust
2 3 ounce cream cheese, softened
1/2 cup sour cream
1 1/4 cups milk
1 package chocolate instant pudding
1/2 cup fudge topping

Procedure:
Place caramels and milk in a heavy saucepan. Heat over medium-low heat stirring continually,
until smooth, about 5 minutes. Stir in 1/2 cup chopped pecans. Pour into pie crust. Combine
cream cheese, sour cream and milk in a blender. Process until smooth. Add pudding mix:
process for about 30 seconds longer. Pour pudding mixture over caramel layer, covering evenly.
Chill, loosely covered, until set, about 15 minutes. Drizzle fudge topping over pudding layer in a
decorative pattern. Sprinkle top of cake with remaining pecans. Chill, loosely covered until serving time.

Have children help bake cupcakes in pink paper liners and prepare white frosting.
Show the class how to make pink frosting by adding red food coloring. Make paper
stencils in heart and dove shapes. Let each child place a stencil on his frosted cupcake
and sprinkle with red sugar crystals or powdered sugar.
Carefully remove the stencil to reveal a valentine.

Make heart shaped cupcakes and jell-o with heart shaped muffin pans. But if you don't have heart

shaped
pans, here is a trick!! Make your strawberry cupcake mix and pour it into cupcake liners and place in pan.
Then place a marble in between the liner and pan. Perfect Hearts!! Then have the children ice up their hearts!!

Use a favorite recipe to prepare cake batter. Pour the batter into one round pan and one square pan.
Make a platter for the cake by covering a large piece of cardboard with foil. Place the square cake
on the platter with one corning facing down. The cut the round cake in half and place the halves
against the top two sides of the square cake to make a heart shape.
Cover the entire cake with pink frosting and decorate it as desired.

Ingredients Needed:
2 1/2 c. cake flour
1 1/2 c. sugar
3 1/2 tsp. baking powder
1 tsp. salt
1/2 c. shortening
3/4 c. milk
1/4 c. maraschino cherry juice
1 tsp. vanilla
2 tsp. almond extract
4 egg whites, unbeaten
18 maraschino cherries, well
drained and chopped
1/2 c. walnuts, chopped

Procedure:
Sift flour, sugar, baking powder and salt into mixing bowl. Mix in shortening.
Combine milk and maraschino juice. Add 3/4 cup of this liquid. Add flavoring
extracts. Beat two minutes by hand or with mixer at low speed. Add remaining
liquid and egg whites and beat two minutes at low speed.Add cherries and nuts.
Bake in 2 deep 9-inch greased layer pans at 375 degrees for 20 to 25 minutes. Cool.
Cut layers into heart shapes using paper pattern. Spread with Pink Valentine Frosting.

Ingredients
1 large can unsweetened pineapple juice
6 cups cold water
1 packet of unsweetened tropical punch soft drink mix
Ice Cubes

Procedure
Mix all ingredients (except ice) and stir well. Pour over ice
cubes placed in clear plastic cups. Makes 24 small servings.

Heart Shaped Pizza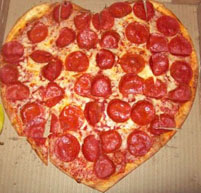 (Photo submitted by Shell)
Make a heart shaped pizza with your kiddos
or order a heart shaped pizza from Papa Johns.



Pre-K Fun Theme Pages are for educational reference only!
No copyright infringement is intended.
I do not claim any of these as my own ideas.
They are shared from friends and fellow group members.
Thanks for sharing all your great ideas!