Valentine's Day Links & Misc. Ideas
Teddy Bear Hugs
Include this poem with a teddy bear and a jar of Hershey's Kisses HUGS.
A Bear Hug For Someone Special
Here's a little Bear Hug
His arms are open wide
And though he's small
His heart is filled
With lots of love inside
If you are ever lonely
And your heartstrings need a tug
Just find this Bear and then right there
He'll give a tiny hug.
I Dig You Goody Bag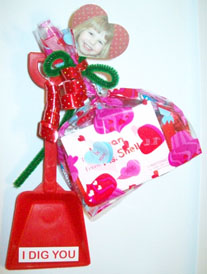 (Photo submitted by Shell)
I made these for the kiddos in my class... goody bag of candy and a Valentine
card with photo flower (laminated) of each child attached to their bag
and tied with curling ribbon to a little red shovel that says, "I Dig You!"
Valentine Labels
To make valentine delivery quick and easy, try using peel-and-stick labels (available at office supply stores).
You can use a computer program to print out a class supply of labels, plus an extra set. Give each child a
set of labels to take home and affix to his valentines. Use the extra set to label each child's
valentine box. On Valentine's Day, each child simply matches the labels for easy delivery.
Q. What did the Valentine
card say to the stamp?

A. Stick with me and we'll go places.


Q. What did the boy octopus say to
the girl octopus on Valentines Day?

A. I want to hold your hand, hand,
hand, hand, hand, hand, hand, hand.




Knock, knock.
Who's there?
Olive.
Olive who?
Olive you!
~ VALENTINE LINKS ~
Little Giraffe's Valentine Fun
Valentine's Day at Virtual Vine
Valentine Crafts at First School
Valentines Day at Kinder Korner
Valentine's Day Fun at KidsSoup
Step by Step CC Valentine Theme
Valentine Fun at the Toddler House
Mrs. Begg's Valentine Theme Page
Squigley's Valentine Coloring Pages
Valentine Fun at Teachers Mouse Pad
Valentine Ideas at Perpetual Preschool
Lots and lots of Valentine Fun at Childfun
Make Learning Fun.com Valentine Goodies
Valentine Ideas at Preschool Education.com
Preschool by Stormie's Valentine Party Ideas
Valentine's Day Theme Page at Teaching Heart
Providers N Friends Valentine Theme & Curriculum
Pre-K Fun Theme Pages are for educational reference only!
No copyright infringement is intended.
I do not claim any of these as my own ideas.
They are shared from friends and fellow group members.
Thanks for sharing all your great ideas!