Valentine's Day Bulletin Board Ideas
Love Is In the Air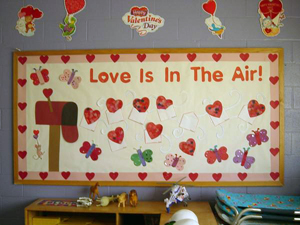 (Photo submitted by Shell)
Tissue paper hearts are "blowing out of envelopes
and out of the mailbox... along with heart butterflies.
The border was made from large pink strips of construction paper and red hearts.
Special Delivery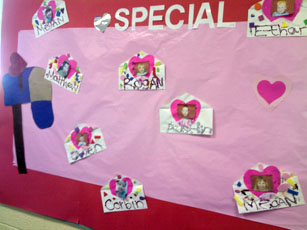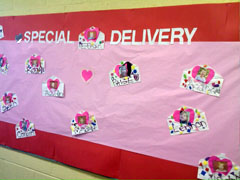 (Photos submitted by Johna)
Valentine hearts with children's photos attached stuffed in envelopes with children's name added by
using glitter and glue. Then children added stickers and foam shapes to decorate their envelopes.
Love Makes the World Go Round
To create this bulletin board, have each child decorate a child cutout
to resemble himself. Glue green construction paper continent shapes to
a large blue paper heart. Mount the heart on a wall or bulletin board; then
mount the child cutouts around the heart. Add the title and
child decorated heart cutouts to complete the display.
Let's Have a Party!
(Party Reminders for Parents)
Invite parents to participate in your holiday parties with this display.
In advance, cut out pairs of seasonal shapes. Label each pair with
a different item needed for your party and the date on which you
need it. Then use pushpins to mount the pairs together on a
bulletin board that is visible and accessible to parents. Add a large
note similar to the one below and then staple a decorated lunch
bag to the board. A few days before the party, check the
board to see what items parents will be sending.
Dear Parents,
If you would like to help with our Valentine 's Day party, please
choose an item listed on a pair of hearts. Write your name on
one heart and place it in the bag. Keep the other heart as a reminder.
Send them item on the date listed. Thank You!
Cupid Heart Door
Cover your classroom door in white and place heart cut-outs on it. Then make
a cupid and place at the top. Label the heart at the top of the day, "Enter With Love".
The Love Bulletin Board
Cut a piece of bulletin board paper to fit your bulletin board. If you use
red or pink, use white paint, if white paper, use red and/or pink paint.
Lay it out on tables or the floor, and have the children use heart-shaped
cookies and/or sponges to paint all over. When dry, staple it up to the
bulletin board. Cut out, or have the children cut out heart shapes from
construction paper. Write who the child loves on them (eg. Jacob loves Daddy,
Rachel loves Aunt Sarah) and add these randomly over the painted paper.
Happy Heart Bulletin Board
Cut out heart shapes, one for each child. Encourage the children to draw
happy faces on their hearts. Have the children color the hearts, adding hair,
eyelashes, lipstick, arms, legs, funny hats, and so on, then cut them out.
(Younger children may need help.) Fold a piece of 12"x18" red construction
paper in half to make a 9"x12" card. Glue the happy heart on the front of
the card. Let children write or dictate Valentine's Day
greetings for the inside of the card. For example,
My heart is full of love for you
Because of all the things you do!
Roses are red, violets are blue
Sugar is sweet and so are you!
Would you, could you, please be mine?
Would you be my valentine?
Staple white construction paper to line a bulletin board. Tack the Valentine's Day cards to
the board for a Valentine's display. Then allow the children to take home their Valentine's.
The Sweethearts of Room ___!
This bulletin board can be a perfect place to show off your class.
Ask each child to bring in a baby picture of themselves, number
each and attach to the board. For older children, you can have
them number their papers and write in who they think each person is.
To make this activity even more inviting, add baby pictures of the
director, principal, other teachers, and don't forget yourself.
The children will love to see you as a baby.
"______'s Sweeties"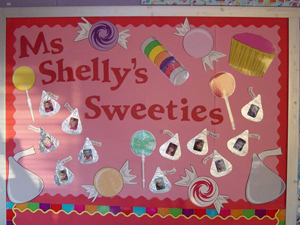 (Photo submitted by Shell)
I precut Hershey kiss shapes from cardboard. The children wrapped a cardboard kiss
cutout with aluminum foil. Then we attached a photo of each child onto a Hershey Kiss!
Big Box of Sweeties
Cut out a large construction paper heart. Decorate the edges with doily
pieces to resemble a valentine box of candy. Have each child color a small
picture of his face or you can have them bring in a picture. Glue each child's
picture to the bottom of a cupcake liner, then glue the liner to the heart.
Write each child's name below their picture.
Then mount the title Miss _________'s Sweeties.
Giant Valentines
Tape a length of bulletin board paper to the floor of an uncarpeted area.
Place a shallow pan of paint near the area along with a bucket of water
and paper towels for easy clean up. Next, use a permanent marker to
draw a large heart on the paper. Invite a child to dip his feet in the paint
and then walk along the heart outline. (Be sure to hold the child's hand as
he walks to help prevent him from slipping.) When the outline is covered
with footprints, set it aside to dry. Then write the following message:
"I Love You from my head to my toes. Happy Valentine's Day!"
I Love You From the Bottom of My Sole
Draw a large heart on butcher paper. Invite the children to step (barefoot)
in a pie plate full of red tempera paint. Assist them with walking around
the edges of the large heart. Make sure to have a damp towel available to
wash off their feet when done. Use the following heading above the heart:
I Love You From the Bottom of My Sole.
Heart of Love Mural
Give each child an 8 inch square of white construction paper.
Let the children use crayons or felt tip markers to draw
pictures of people they love on their squares. Cut an extra
large heart shape out of red butcher paper. Help the children
glue their pictures to the heart. When the glue has dried, attach
the heart to a white background on a wall or a bulletin board.
Write the words "We Love You" above the heart.
Hands That Touch The Heart
Encourage the children to make handprints on white paper by dipping
their hands in red paint. They then cut the handprints out of the
paper. Next, a large red heart shape is cut out of red construction
paper. The heart is glued onto a large sheet of white paper with
some space left around the outside. Finally, the handprints which
have been cut out are glued onto the large red heart -- hence the
hands that "touch" the heart. Then write "Hands That Touch The
Heart" around the outside of their red heart (on the white paper).
Patchwork Heart
Cut an extra large heart shape out of pink construction paper or butcher paper.
Cut the heart into sections (one for each child). Mark the back side of each
section with a pencil. Let the children use red crayons or felt tip markers
to decorate the front sides of their sections any way they wish. When they
have finished, help them put their patchwork heart together like a puzzle and glue it
to a piece of white butcher paper. Then hang the heart on the wall or bulletin board.
Valentine Bulletin Board Titles
Will "Zoo" be my Valentine?

Awww, Have a Heart.

Getting to the Heart of the Matter
Happy Valentine Day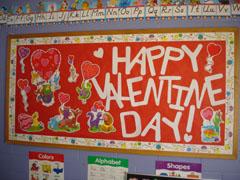 (Photo submitted by Shell)
Pre-K Fun Theme Pages are for educational reference only!
No copyright infringement is intended.
I do not claim any of these as my own ideas.
They are shared from friends and fellow group members.
Thanks for sharing all your great ideas!