Football Sizing
Cut out many different sized
football shapes. Ask the
children to line up the shapes
from largest to smallest.
Football Numbers
Cut out ten football shapes.
Number them one to ten.
Ask the children to line up
the balls from one to ten.
Super Bowl Math Ideas
Super Bowl Predictions Graph
Create a chart of the two teams that are playing in the Super Bowl.
Discuss a bit of info about each team, such as their colors, their
mascots, where they are located (show on a map), etc...
Then let the children make their predictions and graph them on a chart.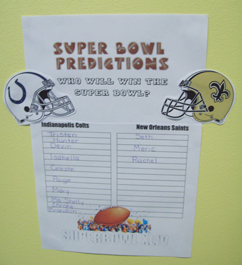 (Photo submitted by Shell)
<![if !supportLineBreakNewLine]>Jersey Jumble<![endif]>
Cut out ten paper <![if !supportLineBreakNewLine]>Football Jerseys and ten paper footballs. Write a different
number on each football and program each jersey with a corresponding set of dots.
Laminate and cut out. Then have children match each football to its corresponding jersey.<![endif]>
Pre-K Fun Theme Pages are for educational reference only!
No copyright infringement is intended.
I do not claim any of these as my own ideas.
They are shared from friends and fellow group members.
Thanks for sharing all your great ideas!