Super Bowl Arts & Crafts Ideas
Paper Football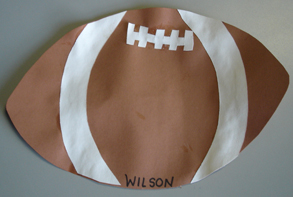 (Photo submitted by Shell)
Provide the children with a football shape cut out from brown
paper and white paper to create their own paper football.
Paper Pennant
Cut out a pennant shape from paper and allow the children to make a pennant for their favorite team.
Football Rubbings
Cut football shapes from sand paper. Tape these footballs to the table. Have the children place
a piece of thin white paper over the football cutouts and rub a crayon over the football shape.
Felt Pennants
Beforehand, purchase some stiff felt from a hobby store and cut it into triangles. Set out
a variety of self adhesive letters, stars and football shapes as well as glitter pens to
decorate. To complete the pennants, punch two holes in the triangles and use wooden
dowel rods that are cut into thirds to weave through the two holes on the pennant.
Stuffed Football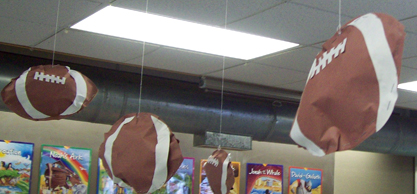 (Photo submitted by Shell)
Precut 2 football shapes per child... including the white laces and grid/stripes.
Staple the sides of the footballs together leaving a small gap for children to add newspaper/magazine
paper wads to the inside. Once it is completely stuffed, finish stapling the edges together.
Pre-K Fun Theme Pages are for educational reference only!
No copyright infringement is intended.
I do not claim any of these as my own ideas.
They are shared from friends and fellow group members.
Thanks for sharing all your great ideas!