Summer Dramatic Play Ideas
Clothing / Dress Up
Set out a variety of beach hats, sun visors, beach towels, summer sandals, sunglasses, swim
fins. Talk about the types of clothing we wear in the summer because it is warm/hot outside.
Gardening Area
You could add garden gloves, flowers, fruits , vegetables, baskets , watering can .
Or a picnic area with a blanket , teddy bears and a picnic basket and food to fill it.
Wooden Ice Cream Play Set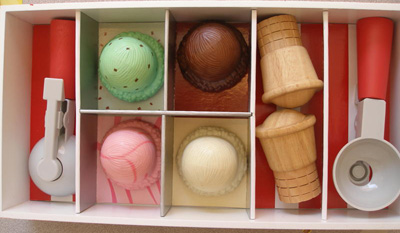 (Photo submitted by Nanette)
A sweet treat for a child's imagination, the Melissa & Doug Ice Cream Parlor Set lets children make believe
they're running an old-fashioned ice cream parlor. The play set comes with realistic looking, stackable ice
cream scoops in four "flavors," two sturdy wooden cones, and two scoopers. The scoopers, cones, and four
ice cream scoops are all magnetic, so the scoopers can actually pick up the ice cream scoops and place
them on the cones. They easily release by pressing the lever, like a real ice cream scooper. Magnets in
the cones keep the scoops in place, even with a quadruple-dipped cone. (All magnets are located on the interior
of the pieces, so there's no danger of the magnets breaking off and posing a serious risk to small children.)
(See Amazon link to the left for more info. about this great product!)
Pre-K Fun Theme Pages are for educational reference only!
No copyright infringement is intended.
I do not claim any of these as my own ideas.
They are shared from friends and fellow group members.
Thanks for sharing all your great ideas!