St. Patrick's Day Literature Suggestions
Leprechaun Story Time
Enlist the help of a parent or other adult to give your little ones a story time
they'll always remember. Ask the adult to dress up like a leprechaun in green
clothing, a red or white wig, a pointy hat or bowler, and silly shoes. Have your
leprechaun look-alike come in to read a St. Patrick's Day story to your students.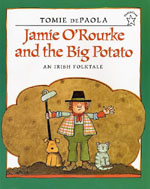 Jamie O'Rourke and the Big Potato
by Tomie dePaola
List Price: $6.99 32 Pages
"Jamie O'Rourke is the laziest man in all of Ireland." So begins well-known children's
book author and illustrator Tomie dePaola's retelling of a popular Irish folktale.
Jamie is accustomed to his wife doing all the household and garden chores, so
when she injures her back, he figures he's sure to starve to death. But as luck
would have it, he chances upon a leprechaun. The elfin man offers Jamie the biggest
"pratie" in the world in exchange for letting him go. Feeling self-satisfied, Jamie plants
the seed, which soon grows into a potato big enough to be a logistical nightmare for the village.
Luckily, his wife comes through for him once again, and everyone ends up happy and full.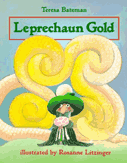 Leprechaun Gold
by Teresa Bateman, Rosanne Litzinger (Illustrator)
List Price: $6.95
Donald O'Dell saves a leprechaun from drowning and is granted enough gold to last
him a lifetime. But because he is a kindhearted humanitarian, Donald refuses the
generous gift. After many unsuccessful endeavors to leave the gold for Donald,
the leprechaun uses another tactic. He tricks Donald into meeting, falling in love
with, and marrying Maureen, who has both heart and hair made of gold. The
leprechaun finally succeeds in repaying Donald for his heroic act. This well-crafted
story is told in a robust, lively manner. The soft, gentle illustrations rendered in
pastel watercolors give the book a slightly surrealistic feeling; the combination
of story and artwork creates a visually appealing book. This engaging tale told in the
tradition of the fairy tale is a top-notch candidate for reading aloud to individuals or groups.





St. Patrick's Day in the Morning
by Jan Brett (Illustrator), Eve Bunting (Author)
List Price: $5.95 28 Pages
On March 17, young Jamie wakes up and realizes it's St. Patrick's Day. The green sashes
are laid out on the table for his father and two older brothers--all ready for them to sport
in the big parade. This is all very exciting, but Jamie's family had told him he was too small
to walk in the parade--too young to make it all the way up Acorn Hill. He decides to take
matters (and his trusty flute) into his own small hands, and embarks on an early morning
walk--all the way up Acorn Hill--with his dog Nell. What did they know? Sure enough, while
the village is sleeping, he traverses the parade route to the top of the hill where he greets
the sun with a hearty, "A happy St. Pat's to you, sun." And, he makes it home before
breakfast! While no one finds out what Jamie has done, you suspect that he may tell
his family later. Kids will love the fact that Jamie climbs all the way up the hill when
everyone said he couldn't. A simple but satisfying St. Patrick's Day read-aloud.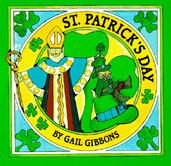 St. Patrick's Day
by Gail Gibbons
List Price: $6.95 30 Pages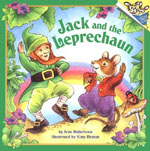 Jack and the Leprechaun
by Ivan Robertson, Katy Braytun (Illustrator), Katy Bratun (Illustrator)
List Price: $3.25 24 Pages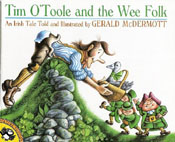 Tim O'Toole and the Wee Folk: An Irish Tale
by Gerald McDermott
List Price: $5.99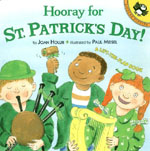 Hooray for St. Patrick's Day
by Joan Holub, Paul Meisel (Illustrator)
List Price: $6.99 16 Pages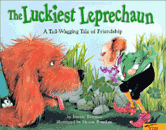 The Luckiest Leprechaun:
A Tail-Wagging Tale of Friendship
by Justine Korman, Denise Brunkus (Illustrator)
List Price: $5.95 32 Pages




More great St. Patrick's Day books:

A Leprechaun's St. Patrick's Day by Sarah Kirwan Blazek
Green Grass and Milk by ALIKI
Little Bear Marches in the St. Patrick's Day Parade
Our St. Patrick's Day Book by Sandra Ziegler
Pre-K Fun Theme Pages are for educational reference only!
No copyright infringement is intended.
I do not claim any of these as my own ideas.
They are shared from friends and fellow group members.
Thanks for sharing all your great ideas!