Scarecrow Misc. Ideas & Links
Scarecrows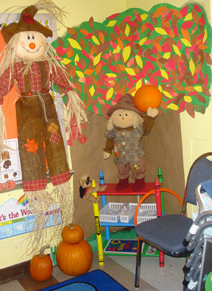 (Photo submitted by Shell)
Display scarecrows around your room. You can usually find them
at Wal-Mart, Hobby Lobby, JoAnn's, or Michael's in early fall.
Scarecrow Hero
Talk about real "heroes" and what they do...your town's firefighters,
policemen, teachers, doctors, nurses, parents, etc.
Let the students vote on which hero they'd like to honor this year and
then build a classroom scarecrow depicting their hero. Ask the students to
help you write a little story about what their scarecrow represents...helps
people who are sick ,helps children learn, etc.
~ LINKS ~
Making Learning Fun - Scarecrow Ideas
DLTK's Crafts for Kids - Scarecrow Craft
Scarecrow, Crows, & Pumpkin Coloring Page
Aunt B'z Kidz Craftz and More - Scarecrow Theme
Scarecrow Theme at KinderKorner
Step By Step - Scarecrow Theme Pages
Enchanted Learning's Paper Scarecrow
Scarecrow Wall Decoration at Kids Domain
Scarecrow Ideas at Child Care Lounge
Fun Pages for Kids - Scarecrows
Scarecrow Ideas at TeachingHeart
Scarecrow Ideas at Virtual Vine
Pre-K Fun Theme Pages are for educational reference only!
No copyright infringement is intended.
I do not claim any of these as my own ideas.
They are shared from friends and fellow group members.
Thanks for sharing all your great ideas!