Scarecrow Dramatic Play Ideas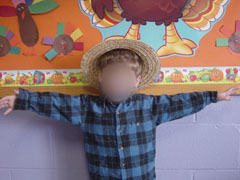 (Photo by Shell)
Scarecrow Costumes
Begin by making a scarecrow mask out of a paper plate.
Cut two eyeholes in the paper plate Have children decorate the scarecrow
mask with crayons, markers, or paint and add strips of yellow construction
paper for hair. Attach a short piece of yarn or string to each side of the mask,
so that it can be tied in back. Supply flannel shirts, old jeans,
and straw hats for him/her to wear with the masks.
Above... straw hat and flannel shirt.
Below... straw hat and felt wig.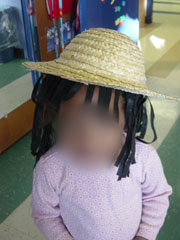 (Photo by Shell)
Pre-K Fun Theme Pages are for educational reference only!
No copyright infringement is intended.
I do not claim any of these as my own ideas.
They are shared from friends and fellow group members.
Thanks for sharing all your great ideas!