Scarecrow Bulletin Board Ideas
Scarecrow Display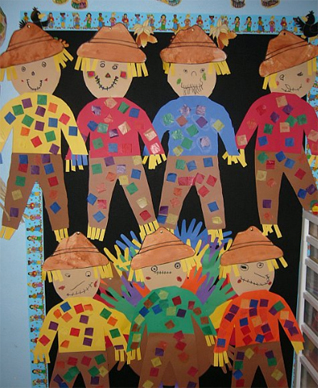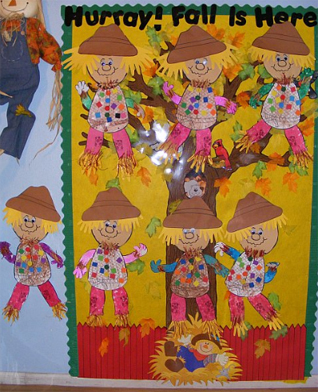 (Photos Submitted by Mrs. Valerie)
Let the children decorate their own scarecrow.
Trace children's hands onto yellow paper and
cut out to use for the scarecrows hair.
Fall Is Something to Crow About!
This colorful pumpkin patch is something to crow about! To make a scarecrow,
draw facial features on a white pillowcase. Stuff the pillowcase, a pair of children's
overalls, and a child's long-sleeved shirt with newspaper. Staple these items to the
board amid a student-created pumpkin patch. Add a hat and clumps
of shredded tissue-paper straw to complete the harvest scene.
Variation: In reading center, make a bulletin board and title it:
"Good Books Are Worth Crowing About!"
Not Scared of Hard Work
Materials: Picture of a scarecrow, glue, pieces of material, buttons,
noodles, anything that can be used to decorate the scarecrow.

Let the children decorate. Cut the scarecrows out and use
them as a bulletin board border for a display of completed work.
Add a heading such as, '
We're Not Scared of Hard Work', or
'This Class Is Not Scared of Hard Work.'
Pre-K Fun Theme Pages are for educational reference only!
No copyright infringement is intended.
I do not claim any of these as my own ideas.
They are shared from friends and fellow group members.
Thanks for sharing all your great ideas!