Cat in the Hat, hats!
Sugar wafer's (broke in half) per child
White frosting
Red deco. gel

Put the wafer's, one going side ways and the other going up and down touching each other, put
frosting on top of that then make red strips across the top portion of the hat then eat! it is so cute.
Mini Cat in the Hat Hats
Take ritz cracker. Then layer with frosting and add red gummy life saver.
Add more frosting on top and add another red gummy life saver.
Layer with more frosting and add one more red gummy life saver.
Top it off with more white frosting.
Cat In the Hat Snack
Graham cracker
sweetened cream cheese
red licorice ropes
Spread cream cheese on cracker add red licorice stripes.
Cat In the Hat Ice Cream Treat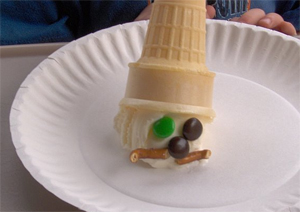 (Photo submitted by Sandy)
Take a scoop of vanilla ice cream for each child and place on a cookie sheet in the freezer. Wrap a one
inch piece of red licorice lace around a small ice cream cone. Place cone on top of the scoop of ice cream.
Use three M & M candies for eyes and nose and six small pieces of black licorice lace for whiskers.
Happy Birthday
Bake a birthday cake for Dr. Seuss and let the children decorate it with candies and icing.
E-Z Birthday Cakes
Eat red and white zingers (matches the Cat in the Hat hats & also represents birthday cake)
One Fish, Two Fish Snack Ideas
For snack, we either have tuna fish on crackers, or just Goldfish brand snacks.
Although, we have made blue jell-o in clear plastic cups with gummy fish too!
Goldfish Snacks Counting Activity
We are going to count fish. I am going to use the rainbow colored
goldfish and give each student ten. We will count them out as I call
out a number they will count that number of fish. When we have
completed the activity, students can eat their fish.
Green Eggs & Ham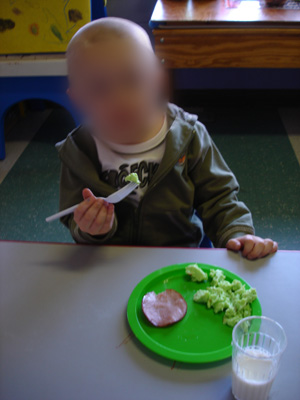 (Photo submitted by Shell)
Eat green eggs and ham for lunch and serve with
"Sam I Am Juice" which is really lime kool-aid
or milk with green food coloring added to it.
You could predict with students if they like green eggs and ham or not and graph their
answers. After eating them, go back and check the graph and have students
re-graph and then compare the graphs to see who all changed their minds.
Green Foods
Talk about the variety of green foods we have and what food group they are in.
You could even bring in some of these things and let the students taste them.