Dr. Seuss Misc. Ideas & Links
Dr. Seuss Birthday Party Favor Goody Bag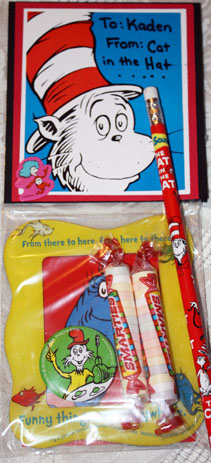 (Photo submitted by Shell)
Included are items I purchased at Target's Dollar spot...
Pencil, Pin, Magnetic photo frame, and some candy.
Opposites
Do opposites like in the Foot Book
Whose Shoes?
Have the children bring in their favorite pair of shoes on the day you read
The Foot Book. Have the children wear their shoes for a footwear fashion
show. We made a picture of each pair of shoes and made a flap book called
Whose Shoes? with the shoe picture on the top of the flap and they can
lift the flap to see a picture of the child that wore the shoes. You can also
graph the shoes by category: house shoes, tennis shoes, sandals, etc.
Cat In the Hat Rainy Day
Discuss rainy day activities with the students.
~ Links ~
Learning with Dr. Seuss at Teaching Heart
Dr. Seuss on the Web at K-State
Tons of great ideas at Hubbards Cupboard
Seuss Celebration Week at Kinderthemes
Dr. Seuss at A to Z Teacher Stuff
Pre-K Fun Theme Pages are for educational reference only!
No copyright infringement is intended.
I do not claim any of these as my own ideas.
They are shared from friends and fellow group members.
Thanks for sharing all your great ideas!