Cat In The Hat Story Hat
Send home about 4 strips (two red, two white) to each child a couple of weeks before your
Dr. Seuss theme with a note asking the parents to write down the name of a book recently read,
the author, and the child's name. As the children bring in their strips, staple them in a red/white
pattern to the wall near your book corner. So, when done, it will be a large Dr. Seuss hat.
Our Feet Can... Foot Book
We created a foot book called "Our Feet can......." Each child decorated a foot with
different collage materials and completed the sentence, My feet can.........
We then put these all together and had our own classroom foot book.
Favorite Seuss Books
Send home a note that asks the children to bring in their favorite Dr. Seuss books
to share. You can devote a special book rack just for those borrowed books.
Photo with Favorite Seuss Book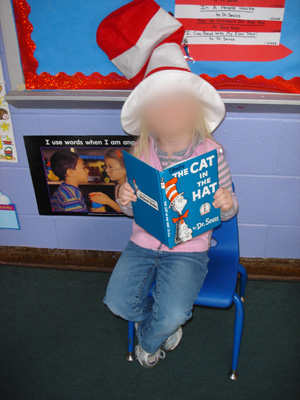 (Photo submitted by Shell)
Take each of their pictures wearing a Dr. Seuss hat, holding their favorite Dr. Seuss book.