Dr. Seuss Fine Motor Ideas

Cat In the Hat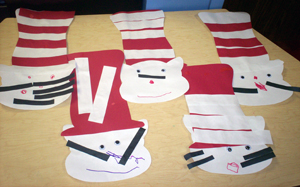 Photos submitted by Melissa (Lissa)
Precut shapes from a Cat in the Hat pattern and encourage the children
to glue the pcs. together to create their very own Cat In the Hat!
On Green Eggs & Ham day...
Play with GREEN play dough.
One Fish, Two Fish Shapes
Use fish shapes to cut patterns through for puzzles, and then
attach paper clips, and "fish" for them, using a magnet fishing pole
and a pool, trying to catch the match to our fish!
One Fish, Two Fish Handprints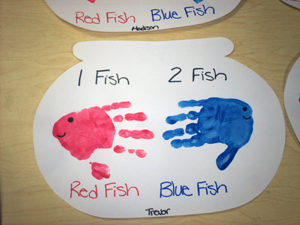 Photos submitted by Melissa (Lissa)
Cut out a pattern of a fish bowl. Let the children dip their hands in red and blue paint
or you can paint their hands (works better with younger kids) to create the fish.

Pre-K Fun Theme Pages are for educational reference only!
No copyright infringement is intended.
I do not claim any of these as my own ideas.
They are shared from friends and fellow group members.
Thanks for sharing all your great ideas!