Dr. Seuss Bulletin Board Ideas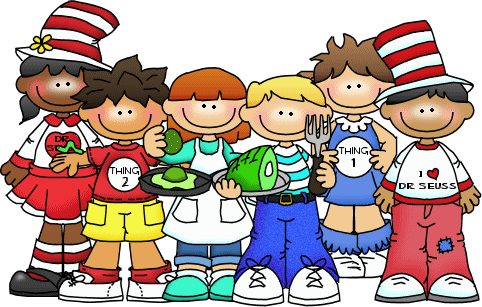 I Do Not Like Them Sam I Am
Take digital pictures of the kids making a
"yucky" face. The students cut out an
egg shape from white paper and glued
a green circle in the middle for green eggs.
They wrote their name in the sentence below...

"I do not like them _______-I-am. "

Put all three things on the bulletin board
for Green Eggs and Ham. They will love
looking at their pictures making faces.

(Photos submitted by Nanette)
Cat In The Hat Story Hat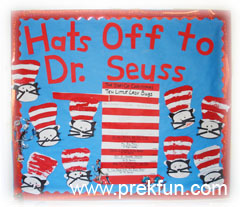 (Photo submitted by Shell)
Send home about 4 strips (two red, two white) to each child a couple of weeks before
your Dr. Seuss theme with a note asking the parents to write down the name of a book
recently read, the author, and the child's name. As the children bring in their strips, staple
them in a red/white pattern to the wall near your book corner.
So, when done, it will be a large Dr. Seuss hat.
And then we added our little Cat in the Hats along the side of our Story Hat.
Bulletin Board Borders
Here are some FREE Dr. Seuss Border printables that my wonderful hubby created for you!
Cat In the Hat
Bulletin Border
Green Eggs & Ham
Bulletin Border
Pre-K Fun Theme Pages are for educational reference only!
No copyright infringement is intended.
I do not claim any of these as my own ideas.
They are shared from friends and fellow group members.
Thanks for sharing all your great ideas!