Dental Hygiene Snack Ideas
Apple Smiles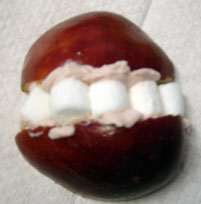 (Photo submitted by Shell)
Cut 2 apple slices (red apple), spread strawberry cream cheese on one side of each
slice, and place miniature marshmallows between the slices, close to the skin side.
It makes red lips and teeth. Now--it CAN be related to good snacks, white teeth, etc.
(If you don't have strawberry cream cheese... just put one drop of red food coloring into plain cream cheese)
Healthy Snacks
Discuss foods that are healthy for teeth and provide some of those for a snack.
Pre-K Fun Theme Pages are for educational reference only!
No copyright infringement is intended.
I do not claim any of these as my own ideas.
They are shared from friends and fellow group members.
Thanks for sharing all your great ideas!