Dental Hygiene
Bulletin Board Ideas
Happy Smiles Brush Through Here!
Greet your students with a giant toothbrush door decoration to announce your
dental health studies. For bristles, cut white plastic garbage bags into
strips and tape them to the top of your classroom door frame. Cut out
bulletin board paper to complete a giant toothbrush. Program it with a dental
health slogan. Each morning, students will enjoy "brushing" through the
doorway, and you'll be sure to see happy smiles as they do!
Happy Teeth Bulletin Board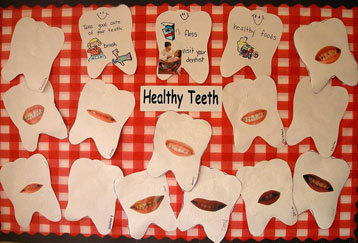 (Photos submitted by Nanette)
Print a pattern of a big tooth on white
construction paper, children cut out.
Brush tooth with toothpaste and a
toothbrush. Attach a photo of each
child's big grin onto their tooth.



Also use grin pics for the below game:
Guess whose smile? Children try to guess whose smile is whose.
Alligator Teeth
Cut an egg carton in half and give each child a row of six "alligator teeth".
Have the children paint the teeth white with a toothbrush. Turn your bulletin board into
a large alligator with his mouth opened. When the teeth are dry add them to his mouth.
"We Are All SMILES!!
We Brush Our Teeth Everyday!"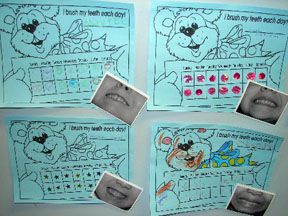 (Photo submitted by Denise)
The children got the charts to fill out at home and as they brought them back in we hung
them up with their smile picture. I did them in black and white. Looks great
on the wall...I still have a few children who have yet to bring it back in.
Tooth Wall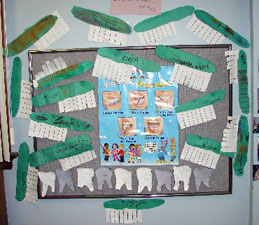 (Photo submitted by Denise)
Pre-K Fun Theme Pages are for educational reference only!
No copyright infringement is intended.
I do not claim any of these as my own ideas.
They are shared from friends and fellow group members.
Thanks for sharing all your great ideas!