Tying Knots
Have rope and show kids how to make simple knots. Encourage them to practice.
Stones, Rocks, Sticks, and Leaves
Supply the children with these different materials for a sensory experience.
Toothpick and Marshmallow Sculptures
Get a box of toothpicks and a bag of miniature marshmallows.
Give the children some of each and tell them to create a free standing object.
The marshmallows work as good adhesive and they will eventually harden.
Star Sticker Fun
Supply the children with black or dark blue paper. Purchase star stickers.
Allow the children to decorate their paper with the star stickers.
Sand and Water Table
Add buckets and shovels to the sand table.
Add fish, ducks and frogs to the water table.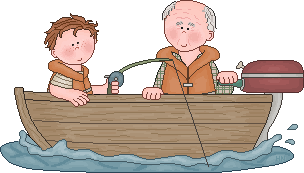 Going Fishing
Set up a rocking boat or a large box in side or outdoors.
Prepare paper fish with paperclips attached to them. Include fishing poles made from
wooden dowel rods and a long piece of string with a magnet attached to the end.
Leaf Rubbings
Let the children go outside and gather some leaves. Then using crayons,
sheet of paper, and their leaves.... encourage them to create leaf rubbings.