Butterfly Game Ideas
Butterfly Matching
Print out several pics of butterflies and create a matching
game or a memory game using the butterfly pictures.
Butterfly, Butterfly, Caterpillar
Play the game "Duck, Duck, Goose" but switch the words "Butterfly, Butterfly, Caterpillar.
Pin the Butterfly on the Flower
Played similar to the game "Pin the tail on the donkey" but use
a large Flower cutout/drawing and butterflies cut from paper.
Chrysalis Contest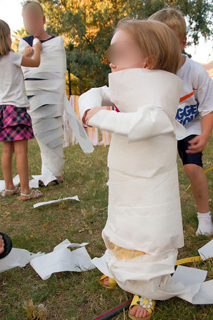 Featured Idea from Nikki at tikkido.com
Divide the children into teams, give the kids rolls of toilet paper, and then have them "cocoon"
one of their friends. After bursting free of the chrysalises and flying around the for a bit,
played another excellent game: who can pick up the most toilet paper the fastest?

Butterfly Badminton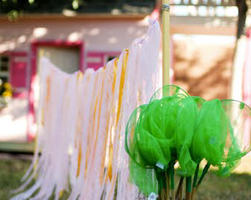 Featured Idea from Nikki at tikkido.com
Butterfly nets from the dollar section of Target were the rackets,
and ribbon and lace made a beautiful "net." I let the kids bat balloons back and forth for
the game. No keeping track of points necessary; it was all about the fun of hitting the balloon.



Butterfly Flutter
Create paper flowers of different colors (two of each). Tape one set of the flowers in a large
circle on the floor. Encourage the children to flutter around like butterflies onto each flower
while they listen to music. When the music stops, the butterflies stop and land on a flower.
Then pull out a matching flower of one of the flowers on the floor. The child standing
on that flower, wins. Continue till each child wins the game.

Pre-K Fun Theme Pages are for educational reference only!
No copyright infringement is intended.
I do not claim any of these as my own ideas.
They are shared from friends and fellow group members.
Thanks for sharing all your great ideas!