Birthday Arts & Crafts Ideas
Birthday Headband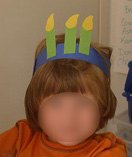 (Photo submitted by Nanette)
Cut a long strip of construction paper sized to fit around child's head.
Attach the same number of birthday candle cutouts that represent the child's age.
Birthday Wear
Cut a length of solid colored bulletin board border to fit around the birthday child's head.
On the border write "Happy Birthday, (Child's Name)!" Next, ask each classmate to select a sticker
(from a supply you've provided) and attach it to the project. When the stickers are in place,
staple the ends of the border together. Invite the birthday child to wear his/her special crown all day.
Make plans to design birthday wear for all your students - even those who have birthdays during the summer months.
Pre-K Fun Theme Pages are for educational reference only!
No copyright infringement is intended.
I do not claim any of these as my own ideas.
They are shared from friends and fellow group members.
Thanks for sharing all your great ideas!