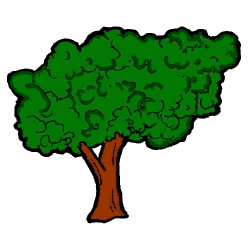 Tree Measurements
Measure how many children (with hands joined) it takes to go around the tree.
. Compare it to other trees. How many children does it
take to hug a large tree? A small one?
Tree File Folder Game
Have several bare trees mounted on file folders. Program each trunk with
a number. Cut out and laminate several leaf shapes. Children identify the
number on the trunk and place the correct number of leaves on that tree's branches.
Animal Homes
Brainstorm with the children on how many different animals make their homes in trees.
Sorting Leaves
Choose three or four leaves with common shapes and tape each one to a
different box. Set out a number of matching shaped leaves. Then let the
children take turns choosing a leaf and placing it in the appropriate box.
Leaf Graphing
Prepare a simple graph by drawing a grid on a large piece of paper. Glue a
different colored leaf in each of the left-hand squares on the grid. Set out
a variety of matching colored leaves and have the children sort them by
color. Then count all the leaves of one color together with the children.
Find the matching colored leaf on the graph and mark off one square for each
leaf of that color. Continue until all the leaves have been counted.
Variation: Make a graph to count leaf shapes instead of colors.
How Many Leaves?
Place several leaves in a see-through container such as a glass
jar or a clear plastic bag. Ask the children to guess how many
leaves are inside. Then take out the leaves and count them together.
Were the children's guesses too high or too low? Place a different
number of leaves in the container and have
the children guess and count again.
Age of Tree
Take pieces of tree (a slice cut horizontal through the tree) and count
the rings to find out how old the tree is. Great counting experience!