Arbor Day Arts & Crafts Ideas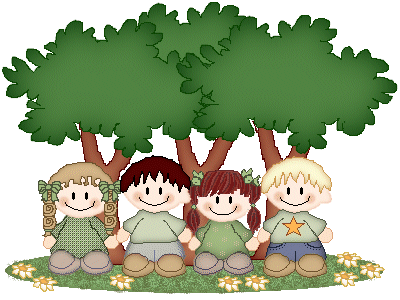 Green Forest
Help your child collect outdoor greenery such as leaves, grass,
or evergreen sprigs. Brush glue all over a piece of construction paper.
Invite your child to arrange his greenery on top of the glue to create a "forest."
Tree Rubbing
With crayons or colored chalk, have your
children do rubbings of different tree bark.
Leaf / Tree Branch Painting
Paint with leaves or small tree branch instead of brushes.
Use the colors of leaves: green, yellow, red, brown.
Tree Huggers
If there is a large tree near your school or center, you've got just the
thing for this texture exploration. To begin, wrap a piece of white
bulletin board paper around the tree and then tape it into place. Set
shallow pans of paint and a few child sized paint rollers near the tree.
Invite a child to dip the rollers in the paint and then roll a design on the
paper. Be sure to have the child press gently on the roller as he paints
so that the texture of the bark will appear on the paper. When the child
has finished painting, untape the paper and set it aside to dry. Mount
each child's colorful creation on a wall for a "tree-mendous" display.
Handprint Tree
Paint child's hand and forearm brown, press on paper. When dry
you can add leaves with fingerprints in green or fall colors, or you
can glue on tissue paper in green or fall colors, or you can glue on
puzzle pieces that are appropriate colors. For a spring tree you can add
blossoms with the leaves. For a winter tree, leave bare and add snow.
Apple Trees
Have the children make "apple" trees. Paint or draw trunk. Color top of tree
green and with red stamp pad they can make apples with their thumb prints.
Spring Tree Model
Each child will need a 9" x 12" sheet of brown construction paper, a
6" x 9" piece of white construction paper, a 6" x 9" green construction
paper, and a 4" x 4" piece of cardboard. Help each child roll his brown
paper into a tube and secure it with tape to create a tree trunk. Have
him cut one inch slashes in one end of the tube and fold them out to
make roots. Assist the child in cutting four V shapes in the other end
of the tube to make branches. Help each child staple the roots to his
piece of cardboard. Next, have each child cut a treetop shape from
the green paper. Have him use a small leaf shaped sponge and
green paint to print leaves on the treetop. Then give the child a
cotton swab and pink paint to decorate the treetop with dot shaped
blossoms. Help each child use a stapler to attach the treetop
to the branches. To complete the project, have each child make
a simple key to identify the trunk, leaves, and blossoms.
Blossom Tree
Supplies:
Construction Paper Paper
Glue
Powdered Tempera Paint
Popcorn
Directions:
Cut out a brown tree trunk and some branches from construction paper.
Take popcorn and sprinkle pink or red tempera paint on it.
Children glue the colored popcorn onto the branches.
It should look like a tree with blossoms.
Leaf Glitter
Gather dried leaves. Crush them to make
"leaf glitter" to use for an project or picture.
Tree Outline
To make tree outline, trace the child's hand (with fingers spread) and arm
(up to the elbow) on a large piece of paper. Color the inside of the outline,
that is the tree. Now, glue leaves onto the branches around the base of
the tree. You can also cut out "apples" or other fruit and glue them on the tree.
Summer/Autumn Tree
Take two paper plates. On one draw a line through the middle of one plate.
Paint one half green and the other half yellow, red and orange. Let dry. On
the other plate cut a window out of the top half, on the bottom half draw a
tree trunk. Fasten the two plates together with a paper fastener. The top
plate should turn so that the leaves on the trunk can be changed form
summer to fall.
Glitter Pine Cones
Dip pine cones into a bowl of white glue, and then dip them into a bowl
of glitter. Let them dry, and hang them from the ceiling by a string.
The House that Jack Built
Make a little booklet for the children to color.
First page, I do them on 1/2 sheets. This is the seed that ______________
(insert child's name) planted. I have used actual acorns or a picture of an
acorn or any other tree seed glue above the words you have typed of
written at the bottom of the page. 2nd page. This is the little tree that is
growing from the seed that _________________planted. Have children
draw a small tree, or you can make trees of varying sizes from construction
paper glue to page. 3rd page. This the tree that is growing from the seed that
_______________planted (on this page have children draw or glue a larger tree).
4th page. This is the large tree that grew from the small tree that grew from the
seed that ______________ planted. On this last page have child draw or glue
tree. If you have chosen a fruit tree have child draw fruit on the tree. If you
choose an Oak tree you can have child draw a picture of a swing on the
tree or them climbing the tree or sitting under the shade of the tree.
Leaf Frames
For each child, you will need two clear plastic lids that are the same size
(coffee can lids, margarine tub lids, etc.). Cut the outer rim off of one lid
so that it will fit snugly inside the other lid. Collect a variety of autumn
leaves. Let the children each choose one or two leaves and glue them inside
their rimmed lids. Then have them put their rimless lids on top of their
leaves and snap them in place. Attach ribbons to the tops of the finished
leaf frames and hang them in a window.
Leaf Prints
Glue different leaves onto cardboard. Move a roller through paint, then
roll over the leaves. Lay a thin paper over leaves and rub with your hand.
More Arbor Day Art Ideas...
Make a leaf collage.
Use a tree to make a bark rubbing.
Use old bark that has fallen off for bark prints.
Pre-K Fun Theme Pages are for educational reference only!
No copyright infringement is intended.
I do not claim any of these as my own ideas.
They are shared from friends and fellow group members.
Thanks for sharing all your great ideas!