Apples Misc. Ideas & Links

Apple Discussion
Where do apples come from? What different colors are apples? Do you like red,
yellow, or green apples the best? Which apples are sweet? Which apples are tart?
Apple Tasting
During circle give children a chance to taste a red, yellow, and a green apple.
Ask which one is sour/bitter? Which one is their Favorite?
I also had caramel dip for the children to try with their apple they loved it..
Leaf Walk
Take a leaf walk outside and collect apple leaves. If this is not possible, cut leaves from construction
paper and place them around your room or building before taking the walk. Have children find the leaves.
Applefest
On Johnny Appleseed's birthday have an applefest where all the
children wear "pot" hats on their head and later eat apple snacks.
Apple Face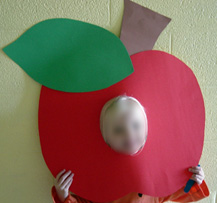 Photo submitted by Shell
A-peel-ing Magnets
These refrigerator magnets make a fun favor for parents to take home after an open house visit.
Before open house, work one-on-one with each child to assemble his/her magnet. To make one,
cut an apple shape from red craft foam. Help the child cut out a green craft foam leaf and a brown
craft foam stem. Then direct the child to glue them onto the apple. When the glue is dry,
use a paint pen to write: ________'s Work is good enough to eat!
Then attach a strong self-adhesive magnetic strip onto the back of the apple.
Note Requesting Apple
Dear Parents,

Next week we will begin our study of apples. We need your help! Please send an apple to school
with your child on Monday. Feel free to send any size, type, and color of apple you can find. We
welcome home grown and store-bought apples. Variety will help make this activity more exciting!!
(An extra apple would be helpful for children who are absent or who forget) During the week we will be
comparing the apples, writing and reading about apples, and we will end our study in a very delicious way!

Thanks for all your help!
Apple Scented Room
Put apple cider and possible cinnamon sticks in a hot crock pot to scent the room.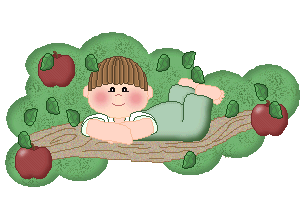 More Info On Apples
Write for more information on apples
Internationational Apple Institute
P.O.BOX 1137
McLean, Va 22101
1-703-442-8850

Washington State Apple Commission
P.O.Box 18
Wenatchee, Wa. 98807

The processed Apples Institute
5775 Peachtree-Dunwoody Road Suite 500-G
Atlanta, Ga 30342
Apple Faces
You turn the apple upside-down, with the stem side up. You take two small
bites at the top and one in the middle and then one bigger at the. The kids are
really excited when they see the face! Then we set them on the table and let
them smile at us. We then compare their faces and vote if we want to eat them
or not. Most of the time they want to eat them and give each
other instructions on how to make the face on the back.
Other Ideas
Have a birthday party for Johnny Appleseed.
Make apple muffins.
Make an apple pie
Plant apple seeds.
Plan a field trip to the orchard to pick apples.
~ LINKS ~
If you come across a broken link, please let me
know at shellabc@prekfun.com THANK YOU!
~ More Great Apple Links ~
Apple Recipes:
http://www.bestapples.com/recipes/index.asp

Apple Songs And Poems:
http://www.canteach.ca/elementary/songspoems23.html

Good Food Climb Poster:
http://www.healthychoices.org/treetop/poster3.pdf

Healthy Choices:
http://www.healthychoices.org/ch1/story.pdf

Snack Mat:
http://www.healthychoices.org/treetop/snk-mat.pdf

Apple Corps:
http://apple-corps.westnet.com/apple_corps.2.html

Apple Exploration:
http://atozteacherstuff.com/lessons/apple-exploration.shtml

Apple Unit:
http://www.angelfire.com/ky2/LITTLEPIXEYDAYCARE/apple.html

Johnny Appleseed:
http://appleseed.org/johnny.html

Johnny Appleseed Crossword Puzzle:
http://www.marshall-es.marshall.k12.tn.us/jobe/Appleseed.html

Johnny Appleseed Picture:
http://www.niehs.nih.gov/kids/apples.htm
Apple Language Arts/Reading:
http://michiganapples.com/pg30&31lan.pdf

Apple Math:
http://michiganapples.com/pg58math.pdf

Apple Math, Art, and Cooking:
http://michiganapples.com/pg53&92.pdf

Apple Math Games:
http://michiganapples.com/pg55mathgm.pdf

Apple Tree Worksheet:
http://michiganapples.com/pg54work.pdf

Little Red House:
http://michiganapples.com/pg35&36sto.pdf

Apple Clip Art:
http://www.waga.org/clipart.pdf

Apple Introduction:
http://michiganapples.com/pg29introa.pdf

Apple Number Dots:
http://www.waga.org/dots.pdf

Apple Pie Slicing:
http://www.aimsedu.org/Puzzle/ApplePie/apples2.html

Apple Senses:
http://www.waga.org/senses.pdf

Counting Apples:
http://www.waga.org/pdf_files/count1.pdf
An Apple A Day Project:
http://members.aol.com/Apples2nd/

Apple Juice On The Internet:
http://www.applejuice.org/

Apple Pie Order:
http://www.education-world.com/a_lesson/TM/WS_applepie.shtml

Coloring Book:
http://www.applejuice.org/coloringbook/index.html

Juice Moose Arcade:
http://www.applejuice.org/arcade/index.html

You Are The Apple Of My Eye:
http://www.manteno.k12.il.us/llacosse/webquest.htm
Apples:
http://yn.la.ca.us/cec/cecmisc/cecmisc.46.txt

Apples & More Recipes:
http://www.urbanext.uiuc.edu/apples/recipes.html

Apple Certificates:
http://michiganapples.com/pg102invit.pdf

Apple Science Experiments:
http://michiganapples.com/pg89watere.pdf

Apple Stationery:
http://michiganapples.com/pg39poem.pdf
http://michiganapples.com/pg40poem2.pdf

Johnny Appleseed Sentence Strips:
http://michiganapples.com/pg50strips.pdf
Clay Pot Apple:
http://familycrafts.about.com/library/projects/blcpapple.htm

Pre-K Fun Theme Pages are for educational reference only!
No copyright infringement is intended.
I do not claim any of these as my own ideas.
They are shared from friends and fellow group members.
Thanks for sharing all your great ideas!