Apples Fine Motor Ideas
Mini Apple Orchard
Have the children work in small groups to design their own "Mini Apple Orchard".
Fill a pan with dirt, twigs, toy tractors, green sponges for apple trees with red tissues
for apples, or anything the children can come up with as ideas for their orchards.
Apple Pictures
Have children cut out apples from red, yellow, or green construction paper.
Glue onto another sheet of paper. Glue on tissue paper leaves or real leaves (collected on
a leaf walk). While children are doing this activity, reinforce the colors of different apples.
Red, Green, and Yellow Play Dough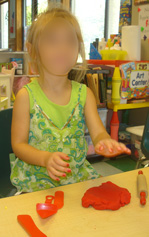 Photo submitted by Shell
Play with red, green, and yellow play-doh
Use a play dough recipe to make red, yellow, and green play dough.
Let the children have fun creating play doh apples.
Fishing For Apples
Make fishing poles - see below for directions. Cut apple shapes from red, yellow,
and green construction paper. Attach a metal paper clip to each apple shape. Place
apples on a large piece of blue butcher paper which has been cut into the shape of a pond.
Lay the items on the floor and ask children to fish for different colored apples or to pick up
a certain number of apples. Apple shapes can be laminated or covered with clear contact
paper first so they will last longer. Shapes or dots can be written on the
apples and used for shape recognition or counting activities.
Directions to make fishing poles:
Make fishing poles from 1/2 inch (1.3 cm) wooden dowel rods which can be purchased
at a hardware or craft store. Cut a groove around one end of the dowel rod about one
inch (2.5 cm) from the end. Tie a short length of yarn into the groove. Tie a
small magnet onto the other end. (Magnetic strips are available at craft stores.)
Giant Apple Tree
For each child , draw three or four apples on red construction paper.
Let the children cut out the apples and glue then onto a giant tree made from butcher paper.
Apple Puzzles
Create an apple shape from red construction paper (or the color of your choice). Cut it up
into puzzle shapes and give children the opportunity to assemble it. Donít forget the stem and leaf!
Pre-K Fun Theme Pages are for educational reference only!
No copyright infringement is intended.
I do not claim any of these as my own ideas.
They are shared from friends and fellow group members.
Thanks for sharing all your great ideas!