Apples Bulletin Board Ideas
My Classroom Apple Tree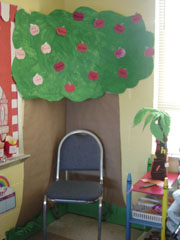 (Photo submitted by Shell)
Here is a photo of our classroom apple tree. I used brown butcher paper for the trunk
and white paper for the tree that the children sponge painted green. I then added
laminated apples with the children's names on them.
Apple Faces
I had taken the children's pics holding a giant red apple (with hole cut out of center)
up to their face. I had planned on printing these out and adding them to our tree but
didn't get time to do it... maybe next year. The giant apple was made out of colored poster boards.
Cut a large apple out of red tag board. Put a leaf and stem on the top.
Cut a hole in the middle of the apple for the kids faces to go in.
Take photos and you can use the caption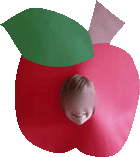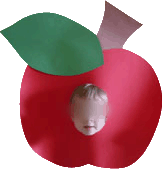 (Photos submitted by Shell)


"THE APPLE OF MRS. " fill in teachers name" EYE"

or

"THE PICK OF THE CROP"
Classroom Apple Tree II
Use a large piece of bulletin board paper. Draw a tree with branches.
Children can use an apple shaped sponge or use paint and a brush to put apples
on the tree or cut red paper apples for each child. When paint is dry write the
children's names on their apples. Hang apple tree art in the classroom
or on a bulletin board. Add their picture to the apples.
Tissue Paper Apple Bulletin Board
Allow the child to cover a paper plate with glue, the child may place small pieces of
red tissue paper on it. When the tissue paper has dried, trim along the edge of the
paper plate. Use green construction paper to make a stem. You can make green pipe
cleaners into small worms, either on the apples or coming out of the top of the apple.
Children usually think the worm is very funny.
Good Apples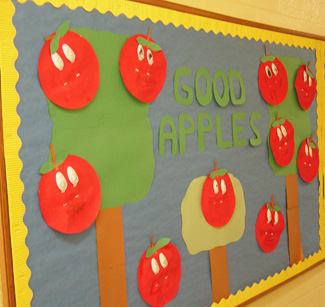 Photo submitted by Jaimie
Painted paper plates red and added white plastic spoons for eyes.
Apple Of My Eye Tree
Make a bulletin board with a tree on it. Hang an apple from each branch with each child's
name on it. Title it "You are the apple of my eye." Mount red apple silhouettes
against black and white backgrounds in the visual stimulation area.
The Apple of My Eye
I use this bulletin board during Welcome Circle. I have each of the children's names
on an apple (made from a heart shape of red construction paper, and a green leaf).
I show each apple to the class and ask the child whose name is on the apple to raise
their hand when they see it. I place them on the bulletin board and the children love to
point out their names throughout the day. Later in the year I will hold
up a name and ask another child to tell me whose name it is.
Preschool Is Apple-Solutely Fun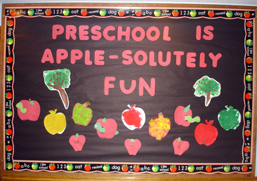 Photo submitted by Shell

Cover your bulletin board with blue cloth. Make a tree and a basket with apples that have
each of the children's names on them. You can also add a sun, clouds, a few birds, and
some cute worms--anything cute could be added to the sky and ground.
Above as the heading put: "Preschool is Apple-solutely Fun!"
Apple Faces on the Tree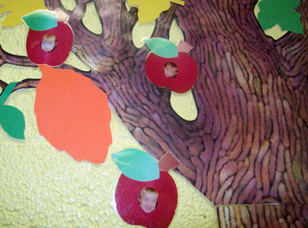 Photo submitted by Shell
See above for Apple Faces idea.
Pre-K Fun Theme Pages are for educational reference only!
No copyright infringement is intended.
I do not claim any of these as my own ideas.
They are shared from friends and fellow group members.
Thanks for sharing all your great ideas!!