Alligator Birthday Plates
Alligator Snappers

Alligator Recipe Ideas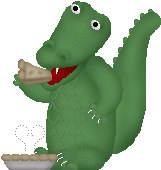 Alligator Cake
Ingredients needed:
1 box of red velvet cake mix
whipped frosting
1 bag of shredded coconut
green food coloring
2 large marshmallows
2 pieces of Rolo candy
Red licorice
Corn Pops cereal

Directions:
Mix a batch of red velvet cake batter and pour it into two round
eight inch cake pans. Bake according to the package directions.
When the cakes have cooled completely, cut them and assemble
the pieces. (see photo below). Next, cover the cake
with whipped frosting tinted with green food coloring.

To create the alligator's eyes, place two large marshmallows
on the head and then use frosting to attach Rolo candy to
each one. Use pieces of red licorice for the mouth and Corn Pops
cereal for the nostrils and toenails. Sprinkle green tinted coconut over the cake.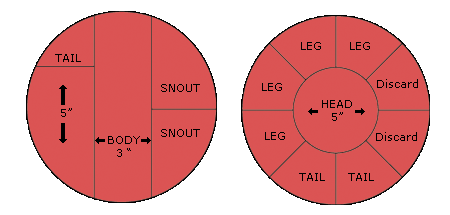 * Snouts: Place long sides together to form snout.
Alligator Applesauce
Ingredients needed:


4 apples, cups or bowls,
1/2 cup granulated or brown sugar,
apple peeler and potato masher ,
1/3 teaspoon cinnamon,
1/4 teaspoon nutmeg,
almond or vanilla extract

Directions:
Peel apples, cut into fourths and cook in saucepan with
1 cup of water and cook until tender, this should takes
about 3 minutes, mash with potato masher, stir in sugar, nutmeg,
cinnamon, and almond/vanilla extract. Let cool It looks like alligator skin.
Pre-K Fun Theme Pages are for educational reference only!
No copyright infringement is intended.
I do not claim any of these as my own ideas.
They are shared from friends and fellow group members.
Thanks for sharing all your great ideas!