Back To School
CD Collection
Please be patient while samples load - Place mouse over slide show to pause. - Scroll down for more Info.
OVER 250 PRINTABLES!
* EASY TO USE! *
* COLOR & BLACK/WHITE VERSIONS! *
* COLOR CRAYONS IN BOTH ENGLISH AND SPANISH! *
* ORGANIZED INTO SECTIONS (STATIONARY, FILE FOLDER GAMES, AWARDS, FORMS, WALL/BULLETIN BOARD DECS, ETC.) *
* REQUIRES INTERNET EXPLORER OR NETSCAPE NAVIGATOR WITH ACROBAT READER AND FLASH PLUG INS
(If you can view the Pre-K Fun Site then you will be able to view the cd fine with no problems) *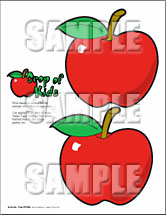 Yes!
I'd like to purchase the Back To School Pre-K Fun Printable Collection.

PayPal Purchase

CD $15.00
Shipping & Handling $3.00
Total: $18.00
Sorry, this CD is no longer for sale.